RMA / Cancellation Guidelines – Seller
Setting your RMA Reasons
Step 1: Log-in to your Seller Account.
Step 2: Navigate to Marketplace Tools > RMA > Manage RMA Reason
Step 3: Add reasons for customers to use when returning products. See example below: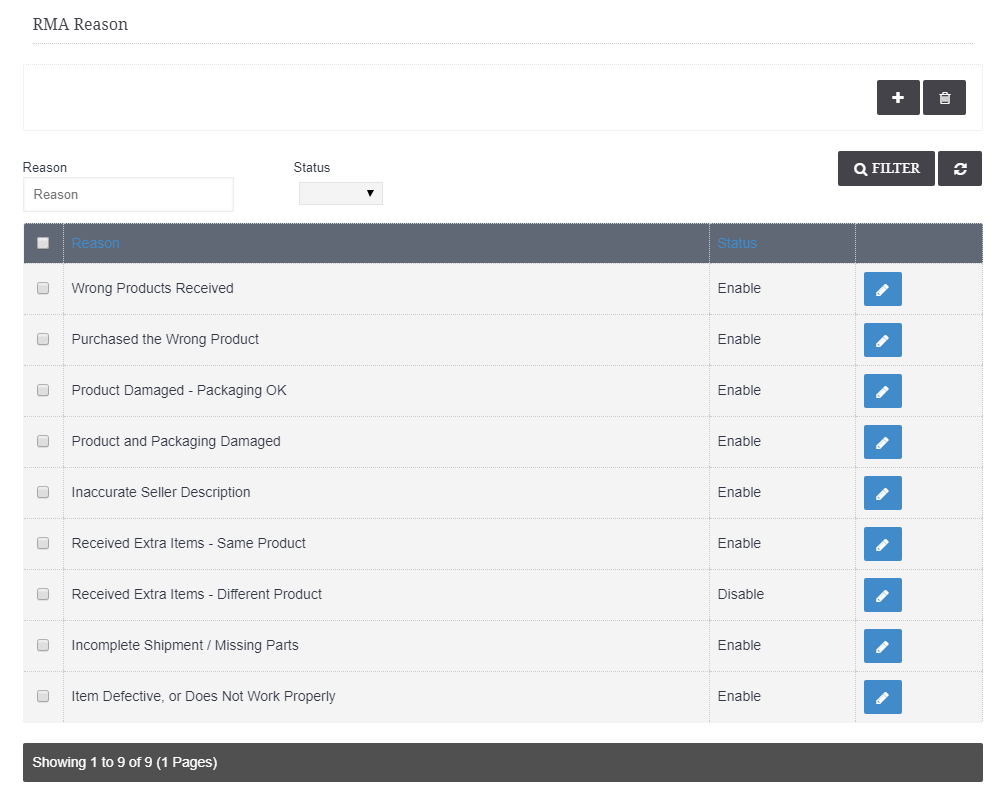 Step 4: Be sure to stet the Status to Enable for the all the reasons you wish to have active.
Processing Returns
Once an order has been shipped and received by the customer, the customer has the option to request a return. You are always responsible for communicating directly with the Buyer to resolve a return. The time you take to respond to return requests may directly impact your Seller feedback and/or ratings.
STEPS:
1. A buyer initiates a return by choosing "Return Item" from their Orders page.
2. Springcontacts.com notifies you of the return via a site message and an email notification. Site messages can be found in Marketplace Tools. A link to your Messages also appears in Seller Central. You are required to respond to all buyer Messages, including return requests, within 24 hours. A response can be a simple acknowledgement that you are processing the return and will follow-up with next steps.
3. You process the return by sending the buyer an RMA number (if applicable) and a return address.
4. Once you receive the return, inspect and approve the return.
5. To issue a refund to the buyer, please email admin@springcontacts.com with the order number and the refund amount.
6. Springcontacts.com customer support will verify the refund amount and refund the buyer.
NOTE: If Springcontacts.com deems that a Seller has acted appropriately and promptly and the return is not due to Seller negligence, the Seller will not be responsible for paying the Springcontacts.com marketplace referral fee on the transaction.
show